A Guide to renting a bike in Bali: prices, contacts, rules, and delivery.
My name is Lev, and I've lived in Bali for over two years. In this article, I will tell you all about tips for renting bikes that I gathered over these years. And I learned a lot, as in 2018 I launched a service for renting bikes from locals and firms, «Getbike».
Getbike is service for renting and delivering bikes to hotels, and works much like AirBnb. The locals and small rental shops offer up their bikes through this service.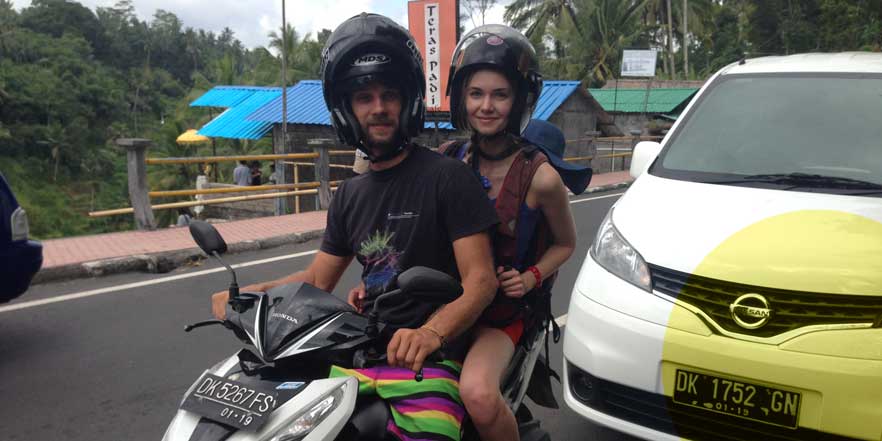 Bali from 2020 to present
From 2020 to 2023, many changes have taken place in Bali, the island has adapted to the changes in the world. First, the coronavirus in 2020 and a difficult two years. Then in 2022 the reopening of the island and a gigantic influx of tourists in November 2022.
The price during the pandemic fell by half, and at the end of 2022, they increased by 50-70% relative to pre-pandemic prices.
While there was a pandemic, renters were actively reducing the motor fleet, because most of them bought bikes on credit, and there are no tourists, there is no way to pay for loans. Prices fell to 1 million for a new Nmax. In December 2022, the average price for Nmax tripled to 3,000,000 IDR and above. And now prices continue to rise.
If you try to rent a bike on your own and call large rental companies with a fleet of 100-300 bikes, you often hear that there are no bikes, or there are 1-2 bikes. This is because there is no way to buy a bike in motorcycle dealerships now, the queues for new Nmax reach 6 months.
The getbike team expects growth to continue until March 2023, when tourists will be a little less and the renter will stock their garages with new bikes.
What happened during the coronavirus in Bali?
Since March 2020, Bali has closed. There were almost no tourists. Local residents sit at home more often, and there is significantly less traffic on the roads.
Most renters have reduced the price of rental scooters by 20-30%. The prices for renting scooters in Bali are already among the lowest in the world. For example, the cost of the popular Honda Vario 125 scooter before coronavirus was $50-$60 monthly, and now (April 2020) you can rent for $40 monthly.
Many renters have reduced their staff, which has affected the speed of delivery. More often, they began to refuse delivery to far districts.
On getbike, prices are reduced by 25%, and the new prices are already on the site.
Introduction
It is impossible to imagine an active life, rest and travel in Bali without private transportation. This is my experience, and the opinion of those I had met on the island.
In other countries of Asia, such as Thailand or the Philippines, and even Vietnam, there is «some form of» public transportation; mainly, of course, in big cities. But Bali just happens to be a large island — the population is that of a big megapolis of 4.2 million people (2014 census data), moreover, there is a complete absence of public transportation or it is only gestating.
With all that in mind, the cost of renting a scooter, motorcycle, or car is very low. For example, the cost of renting an inexpensive bike would be equal to the cheapest bottles of beer in a supermarket.
A taxi or a personal automobile with a driver befits some people better, but this is not about them.
An examplary road in Bali, filmed in motion from a bike. This is typically not a main road. Very narrow lanes, so if a car approaches you will need to go to the side.
Why do you need a scooter in Bali?
Bali has buses, but they stop by quite rarely, very irregularly, and have few routes, so that even if you find a bus stop (and this is not easy), you would not want a repeat experience. Myself, I had not ridden buses but heard in turn, that the driver always overcharges tourists compared to the aboriginal population, so I would not recommend using this form of transport.
You have to agree that the more you see, the freer you will be, the better and brighter your vacation will be, as sitting around inside a hotel is not our way. Bali is such an extraordinary and magical island, which has a huge number of unforgettable destinations, that spending a vacation being a lounge chair potato on the beach would be criminal.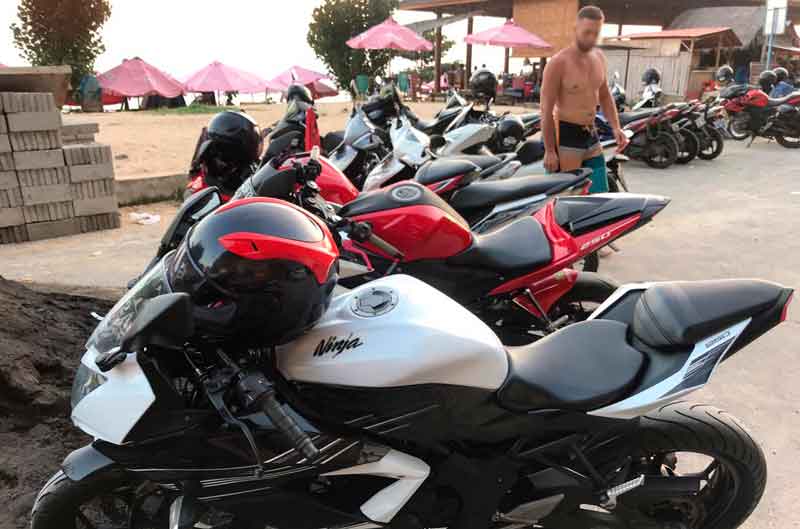 As always, you have options, such as looking at popular attractions and finding treasures hidden in the heart of the island.
Nobody cancelled the tours. Every year, millions of tourists visit Bali and every year there are more and more of them. If you arrived for a tour, you may partake in an excursion from the provider, or go to one of the plentiful shacks that exist in all high-traffic locations.
The best path, in my humble opinion, is to rent a bike or an automobile. An car is an absolute necessity if you have little experience or you arrived with family. On your own bike, you are like the wind. Everything is accessible for viewing. I have a few very rare routes. Aside from this, you may visit any temple, visit wild beaches and all around have freedom of movement.
One more option is to rent an car with a driver.
The fourth and one of the most popular methods of transportation is a taxi. Here, it is cheap, and there is the moto-taxi (a driver on a scooter will pick you up).
Among international companies, there is Uber, Gettaxi, and Grab (which is the cheapest).
There are major local companies; for example, the most popular one — «Bluebird» (they are promoted by the local government). Not one other taxi operates at the airport, everything is occupied by the «Blue Birds». For example, if you want to call on Grab, you need to go beyond the boundaries of the airport. Prices on airport territory are two to three times higher, but if you go past its limits, you instantly get access to international taxi services and the very same «Blue Birds» will have a lower price.
Of all the taxi services available I would recommend taking GO-JEK — this is a motorcycle taxi, cheapest and quickest on the island. Of course if you have a child, choose a car instead.
Where to rent a bike?
Let's piece together which ways of renting a bike in Bali are available. As always, it depends on what is most important to you: time, price, and quality.
Cheap and slow
This method suits those who flew over for more than one day, who are in no hurry, and are more likely to spend a few days on bike choice along with appreciating interaction with the locals. It is the same for those who want to save money and snatch a bike at the lowest possible price.
Initially, look up the cost of different models of bikes.
After that you have two ways to go: walk, or call around. Taking that into consideration, the second option does not eliminate the possibility that you might still end up browsing different rentals, because often times you cannot estimate the condition of the bike until you see it, and only when you come to the rental shop will you fully be able to affirm availability.
So, let's partake in research on our own two feet. As I mentioned earlier, this is the cheapest way of renting a bike. It's not worth it to do so the moment of your arrival — first, you need to reach your hotel or villa and then, well-rested and full of energy, head out to investigate the cacophonous streets of the island.
The algorithm is simple — walk out on the street, spot a lot of bikes and a sign «Motor rental» — walk right in and say: «I want to rent a bike». Find out the price, look at what bikes are available, and bargain. It is possible to bargain very well, but the prices are already low. Of course, if you are at a spot popular with tourists and look like a «green», inexperienced tourist, it's possible you will be told a price that is three times higher. Compare prices with the average across the island, and watch our special with an analysis of prices for renting Vario 125.
This method is more suited for tourists who vacation for a whole month or several. Regrettably, you cannot always find a good bike for an adequate sum of money, even if you spend a couple of days looking. For example, during my last visit, I searched for a bike for two days, when that was my third long trip. I lived in Bali for one and a half years during my first visit AND I had verified rental contacts! In the end I rented a Honda Vario 150 for one million rupees, with a mileage of 43,000 kilometers. I had to take it because I got tired and found out that it was not new only when the renter took me to his shop. I needed either to refuse and get to my hotel on my own, or just take that bike.
It is also important to be assured of the owner's hygiene. At a street shop you cannot ascertain the bike's cleanliness.
Tricking tourists is unpopular on the island, but it is good to be aware of. It is often possible to run into an insane bill for the scratches that you made.
Aside from that, in different regions there are different conditions for a bike search. In Kuta or Seminyak you can manage that on foot, but in Bukit, Canggu and Ubud rentals are more scarce, and if you don't live on a major street, you'll have to go out of your way.
Well, and if you are located far from the aforementioned regions, it is possible that finding a rental on foot will be impossible. Such regions are: Amed, Sanur, and Berava among others.
Fast and Expensive
If you don't want to spend valuable time on rental troubles/want to spend less than a month in Bali, and don't mind spending a bigger sum of money, it is easier to turn to large companies for renting transport.
As a general rule, you will pay double the price, but you will be spoken to in english, sometimes russian, plus you will get insurance and a lesser chance of being fooled.
Cheap and fast
Only a couple of years ago it was not a possibility, and to get a low price, you would need to walk or call and check lots of stores.
This is why I had an idea to create «Getbike», which unites all of Bali's rentals, big and small, that have ownership over a big set of scooters and motorcycles in good condition. Taking that into account, the price for renting will only be 5-10% higher than that of what you would find by yourself.
The most complete list of rental contacts and companies in Bali, with division by region, can be seen in the section for «Rental Contacts».
Prices of renting scooters and bikes
By my own estimate there exist over a thousand rentals and a huge selection of scooters and bikes. Most rentals present the same array of scooters (see section «Types of Bikes»). Motorcycle and Custom rentals can be counted on one hand.
Most popular are the diminutive scooters with a volume of 100-250cm cubed, automated.
Mainly, the cost depends on such parameters as the duration of the rent, the condition of the bike, and the region in which you are renting.
As a general rule, for unremarkable models of bikes such as Honda Vario 125, the price varies from 75 to 130 thousand rupees per day, about &5-8 USD. If you take the same bike for a month, it amounts to 900-1100 thousand rupees ($60-90 USD). 750,000 rupees will get you the most beat-up bike, when a 1100,000 rupees will provide a new, or one in nearly mint condition, in any area of the island.
If you plan to rent for several months, talk to the owner, even if the prices are already low. Bargaining might offer you a 5-10% discount. They won't go lower. Unless, of course, they first wanted to charge you double the price.
In general the costs on Bali are so low that you'd want to pay more. Sometimes there is no understanding of how profit is made at that price. Many big local rentals, it turns out, profit not only off renting out bikes, but their sales too. They put a purchase of a bike on credit, the bank allowing that with 25% yearly pay, then rent it out for 5 years, pay off the loan, sometimes profit, and sell the bike at half or third the original price.
I would not advise searching for the cheapest bike. After all, 100,000 rupees is only $8 USD. You can get a much better bike after paying the above sum. Take a good bike, with no more than 40,000km on it.
Bali also has many beaten-up bikes. Often times, they are handed out in Kuta, where the tourists are ready to take the first vehicle offered.
Look at the price table for renting bikes. These are prices at a prolific local rental at Seminyak. Applicable as of Junuary 12, 2023.
Dayily

Monthly

Old (before 2015)

Low millage (2016-2019)

New or like new (2020+)

Old (before 2015)

Low millage (2016-2019)

New or like new (2020+)

Honda Vario 125

80,000Rp

100,000Rp

130,000Rp

1,000,000Rp

1,250,000Rp

1,800,000Rp

Honda Vario 150cc

90,000Rp

110,000Rp

150,000Rp

1,300,000Rp

1,800,000Rp

2,300,000Rp

Honda Vario 160

–

–

160,000Rp

–

–

2,500,000Rp

Hodsa Scoopy 110

70,000Rp

100,000Rp

130,000Rp

900,000Rp

1,300,000Rp

1,600,000Rp

Honda NMax/PCX

120,000Rp
150,000Rp

170,000Rp

2,200,000Rp

2,500,000Rp

3,000,000Rp

Honda BeAT 110

70,000Rp

90,000Rp

950,000Rp

Yamaha Mio J 110

70,000Rp

950,000Rp

Yamaha Geox 125

100,000Rp

1,550,000Rp

NINJA Z250

350.000Rp

3,750,000
On the Getbike website you may rent with these very same prices. Prices also fluctuate slightly from season to season. November and December, when there are more tourists, are the most expensive.
Average prices for scooter rental
Honda Vario 150cc
6,5 $ /day
84 $ /month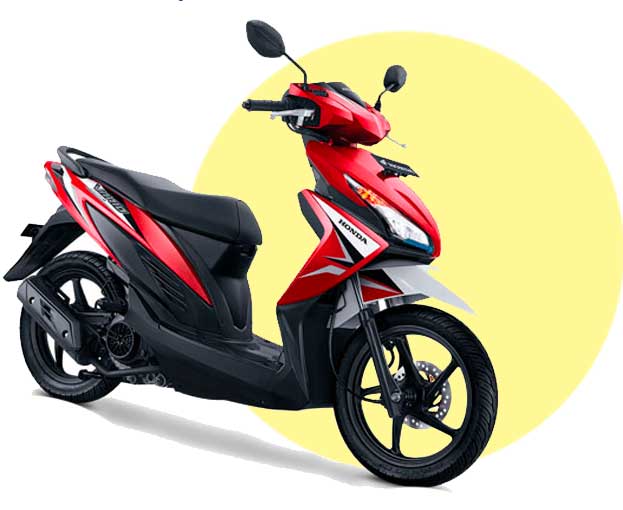 Honda Vario 125
5,5 $ /day
71 $ /month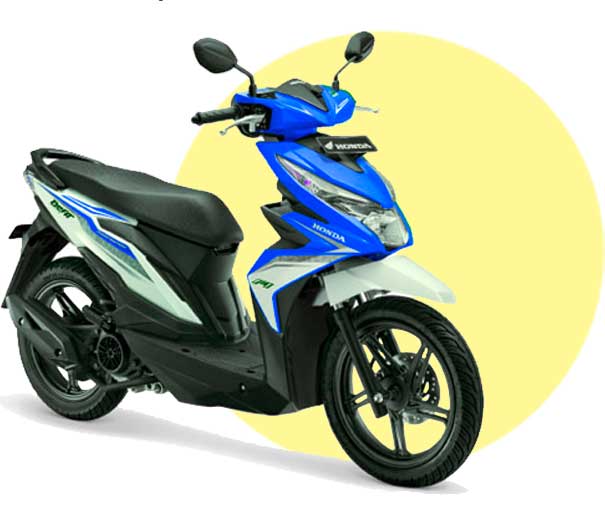 Honda NMAX
11,7 $ /day
182 $ /month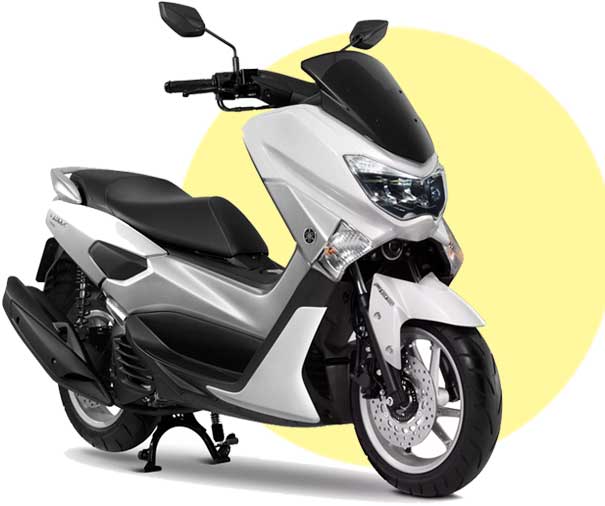 Honda Scoopy
7,1 $ /day
75 $ /month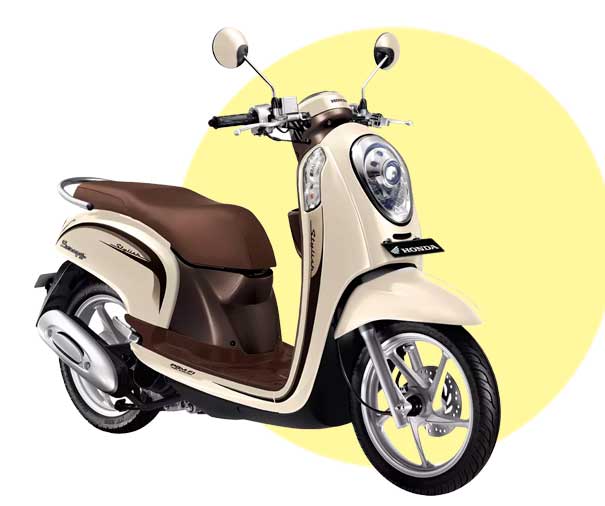 What you need for renting a bike: documents, security deposit, and other questions
Most times when renting you need no credit card, no security deposit, and even a passport or driver's license would be unnecessary.
Most likely you will only be asked for your phone number and the address of where you are staying at.
In some companies you will be asked for your license and to leave a deposit.
I had not run into any cases in which you need to leave behind documents as a deposit. If you experience this, it is best not to rent a bike from that place.
It is a rare case when you can pay using a card, so it's good practice to stock up on cash in rupees. Dollars are favored, but it's more beneficial to exchange them beforehand, as the exchange rate may not be bank-like at all.
Popular models of scooters in Bali
All bikes can be divided into three main subcategories:
Scooters
Motorcycles
Custom bikes
Motorcycles and customs are a whole different story, hence I will not speak about them here.
Scooters in turn have two subcategories: mini — and maxi. Generally two scooter brands are presented on the island, Honda and Yamaha.
Comparative table of gas usage in various models:
| | |
| --- | --- |
| Bike | Consumption |
| Revo 110 FI | 62,2 km/l |
| Blade 125 FI | 61,8 km/l |
| Supra X 125 FI | 61,8 km/l |
| BeAT eSP | 58,5 km/l |
| BeAT eSP dengan ISS | 63 km/l |
| Spacy PGM-FI | 41 km/l |
| Scoopy eSP | 61,9 km/l |
| Vario 110 eSP | 59 km/l |
| Vario 125 eSP | 59,5 km/l |
| Vario 150 eSP | 52,9 km/l |
| Sonic 150 | 40,90 km/l |
| New Verza | 48 km/l |
| New Mega Pro FI | 46,2 km/l |
| New CB150 R Streetfire | 37,87 km/l |
| PCX 150 | 50,7 km/l |
Honda Vario Techno 125, description, prices and characteristics
Characteristics
Automatic transmission
Engine volume of 150cm cubed
Weight: 109kg
Tank capacity: 5.5 liters
Fuel efficiency: 1 liter per 59.5km (a full tank would give you 300km)
Price per day (new): 80,000 rupees or $6.06
Price for a month (new): 1100,000 rupees or $71
Price for new: 19,255,000 rupees
Perhaps, this is the most popular scooter on the island. Personally, I always take precisely this model. It is comfortable to control, light, and dexterous. Its power is enough for anything you want, even for steep inclines with a passenger onboard — it effortlessly goes up any hill. Additionally, you can cruise on it at 100km/h. But — speed is not the deciding factor in Bali. Most traffic moves at about 40-60km/h, and highway speeds rarely exceed 60-80km/h.
This bike has a comfortable trunk, in which a helmet or an average bag of stuff fits quite well. By the steering, there is a nifty hook onto which you can hang a few grocery bags.
Honda Vario FI 150, description, prices and characteristics
Characteristics
Automatic transmission
Engine volume of 125cm cubed
Weight: 112kg
Fuel efficiency: 52.9km per 1 liter (280 km per full tank)
Price per day (new): 100,000 rupees or $7.57
Price for a month (new): 130,000 rupees or $84
Price for new: 23,428,000 rupees
Very similar to its «little brother», Honda Vario Techno 125, but with a larger engine volume. It's more spry and it can be felt right away. Size-wise and control-wise, these two models are practically identical.
This one has better lights than its predecessor, as they are now diode-based. Additionally, it has combined breaks. The trunk's volume is 18 liters.
Honda Scoopy, description, prices, and characteristics
Characteristics
Automatic transmission
Engine volume of 108cm cubed
Weight: 99kg
Tank capacity: 4 liters
Fuel efficiency: 61.9km per liter
Price per day (new): RP 100,000 or $7.5
Price for a month (new): RP 1,500,000 or $100
Price for new: RP 18,803,000
Yamaha NMAX 155, description, prices, and characteristics
The best option for long trips around the island.
Characteristics
Automatic transmission
Engine volume: 155cm cubed (it's rumored that 125cm cubed specimen exist in nature but I had never seen one)
Weight: 127kg
Tank capacity: 6.6 liters
Fuel efficiency: 41.6km per liter (250km per tank)
Price per day (new): RP 180,000 or $11.7
Price for a month (new): $181
Price for new: RP 35,000,000
This is an excellent maxi-scooter. It is bigger in size than those of a Vario 125 type. Lately it has been gaining popularity, and the locals are actively switching to this model.
It is analogous to Honda PCX. Powerful and comfortable, good for long drives (you are able to stretch your legs a little), suited for two people. Among the disadvantages is it being a little harder to maneuver in traffic jams and the absence of a hook to hang a grocery bag upon. And of course, it costs more. It's rare for those bikes to have racks, for surfers to bring their board along, but it's always possible to install these racks as an addition for RP 500,000.
Honda PCX 150, description, prices, and characteristics.
Characteristics
Automatic transmission
Engine volume of 155cm cubed
Weight: 129kg
Tank capacity: 8 liters
Fuel efficiency: 44.6km per liter (330km per tank)
Price per day (new): RP 180,000 or $11.6
Price for a month (new): $181
Price for new: RP 34,800,000
Analogous to NMAX. Some people say that the trend for this scooter transferred over from Thailand. Description: models exist with and without an ABS. Grab one if you find one with ABS. Personally I had not driven one like this, but will do so given a chance. Users mark up a comfortable seat and a spacious trunk.
Recommendations on scooter choice, how to pick a bike
Criteria:
Are you alone or with a passenger?
Are you riding your own surfboard or renting at a beach?
Woman or man
Lots of driving experience or little?
It is difficult to say which bike will suit you best, so use the model descriptions when choosing.
If you have no preferences and you are alone — take a Vario or NMax.
For girls, I recommend Scoopy — it is pretty and light.
For long trips I specifically recommend NMax.
Remember that you can always swap bikes if you want a different model. This can be done at any rental.
Bike condition
I already mentioned that, unlike places like Vietnam and Thailand, Bali has many new scooters and bikes in mint condition. Taking that into account, older bikes also never disappeared. If you grab, for example, an Nmax or Xmax, they will always be new. This is speaking in 2018 terms (in five years those Nmaxes will not be so fresh).
Be especially vigilant when renting such bikes as Honda Vario or Mio, Scoopy, or Spacy from small local shops. There are lots of bikes that ran over 50,000km. Their condition depends on care, bit it is most likely that they would be quite beaten up.
What may also occur is you taking a bike that doesn't have working lights, turn signal, or even the breaks — thus, check beforehand. This often happens in small rentals in Kuta. Big companies track the bikes' condition, but not always very diligently. Everyone is relaxed.
Wherever you rent a bike, there will always be models both old and new. After all, the rentals consistently try to squeeze out maximum profit from their fleet. Because the prices of bikes in Bali are extremely low, this solidifies the presence of old bikes in fleets of rentals.
At Getbike, we mark the status of the bikes and you can preemptively look up their run and condition. We offer different prices on new bikes and those with a long run.
Insurance
Bali does not have official insurance for renting bikes. Before, insurance for motor vehicles was handled by banks and insurance companies, but after 2014, they've stopped dealing in insurance when it comes to rental bikes.
This is in connection to a large number of fraud cases, when locals, in case of any accident or theft (back then, theft was rampant) applied for a compensation. Some rentals and companies still have insurance policies.
Multiple types exist:
Full coverage, including theft and any damage. I saw this suggested several times online, but never ran into it in practice.
Franchise coverage. This is the most popular insurance in Bali. As a rule, a franchise consists of $100-200 USD. Such insurance is not very useful, because 90% of similar cases are connected to small scratches and dents, which the franchise will cover. It is appropriate in case of theft/disappearance, but in the last few years, Bali became theft-safe. This is due to the actions of banjara- they are something in the middle between an elder and a godfather, as described to me by the locals. They basically eradicated vehicle theft on the island.
I heard of one case from a large renter, Ketut, located in Seminyak. His fleet has more than 100 bikes. One client had his bike stolen from a villa parking in 2016. There were prolonged negotiations, and the villa's owner ended up paying the cost. Depending on the circumstances of the theft it won't always be the tourist paying for the bike out of pocket.
Renting a bike with insurance, as a rule, is twice the normal cost. If you are being offered insurance with the price remaining on the level of local rental shops, be suspicious. In this case it's worth it to verify everything in great detail. When renting, I recommend to record a video of your talk with the renter about contract details, or record audio in order to present evidence if needed for a case of conflict.
Bike Delivery
There are many variations of renting, including one where your bike will be delivered right to your hotel or villa.
But, there are also nuances. Mostly, it depends on the term of renting and its cost.
If you need a scooter only for only a couple days, it is unlikely that you'll be able to negotiate a delivery. Yes, even if you suggest to pay for it (this is a quirk of local mentality).
If you rent a scooter for a minimum of 7 days, in my experience, about half of local rentals will deliver the bike to you for free, although I would say you have to be in a certain distance away from them — (10 minutes, and taking into account the traffic jams in Bali, 5km).
If you take a bike for a month or more, then like with a 7 day term, most would deliver to you within the limits of their region.
Exceptions exist too. Some rentals may bring you a bike from Seminyak to Bukit or Sanur, if you're renting long-term. You need to ask. Additional costs may range from 50,000 to 100,000 rupees.
Firms and companies work on the same principle — delivering only within the limits of their region. I don't know of a single company that delivers across the entire island. For now, even Getbike does not deliver to the north of the island, but we plan to cover the area too in 2019.
Usually a delivery goes as follows: the owner of the bike or one of their family members, if the ride is local and short, comes on two scooters, leaves one for you, and drive away on the second.
If the owner is not at some sort of a ceremony, the bike may be delivered very shortly, in about 30 minutes to an hour. But, you need to take into account that Balians are a calm people and everything can get stretched out to a day, and sometimes even two.
How to reserve a bike
Factually, it is impossible to reserve a bike in Bali. Even the biggest firms do not have a system for reservations. If you picked a bike, wanting to reserve it, it wouldn't pan out.
The case is such that due to many factors, that a bike may already be gone, even if you somehow reserved it.
First of all, it can be rented out to another tourist, and nobody will save the bike for you if anybody else wants to rent it right now. Second, if it is planned that a bike will be available by the time of your arrival and will specifically be given to you, the previous tourist may always extend their term.
Thus, when reserving a bike, you get the same result as if you ordered it the day of your arrival.
I recommend making a list of suitable rental shops and firms which have bikes that appeal to you, and are satisfactory in price and reviews. And when you arrive, communicate via WhatsApp and order a bike with delivery from the first responder.
WhatsApp is the primary method of communication in Bali. All communication goes through this app. All renters have it.
Some firms with large fleets always have bikes.
Helmets
All rentals, with all bikes, always supply you with up to two helmets for free.
If you need a child helmet or one of a specific size, availability will depend on the renter's service. Availability needs to be verified and you may be additionally charged.
Generally, in all local rental shops, the helmets are of very bad quality, dead, old, and often without visors.
My recommendation is to firmly ask for a good helmet and warn them ahead of time in WhatsApp that it is important for you. Frequently, the owner will agree and find a good helmet, maybe even give you his own. :)
If you need a bike for several months, I insist you purchase your own helmet. Bali shops have them for very cheap. Prices start as low as 300 rubles. A good one may be purchased for 700 rubles, and one in top condition from 1000 to 2000 rubles. They are sold at practically every supermarket. I recommend going to Carrefour in Kuta, and Nirmala Ungasan by the McDonald's in Bukit. Likewise, a large selection is offered in Hardice.
Kuta also has many small shops, additionally on Uluwatu street, right after Dreamland. These spots have low prices and good finds.
Getbike always gives out two helmets for free, clean and in good condition, but they sometimes might be without visors.
Usage
How to drive a bike in Bali
...coming soon
First time renting a bike. Accepting a scooter
If you are an automobile enthusiast, then you already know that you need to check the sound of the engine (and that a bike needs breaks). But even in that case, you need to make a persnickety inspection — after all, Bali is unlike other place where you've driven. It has its own nuances.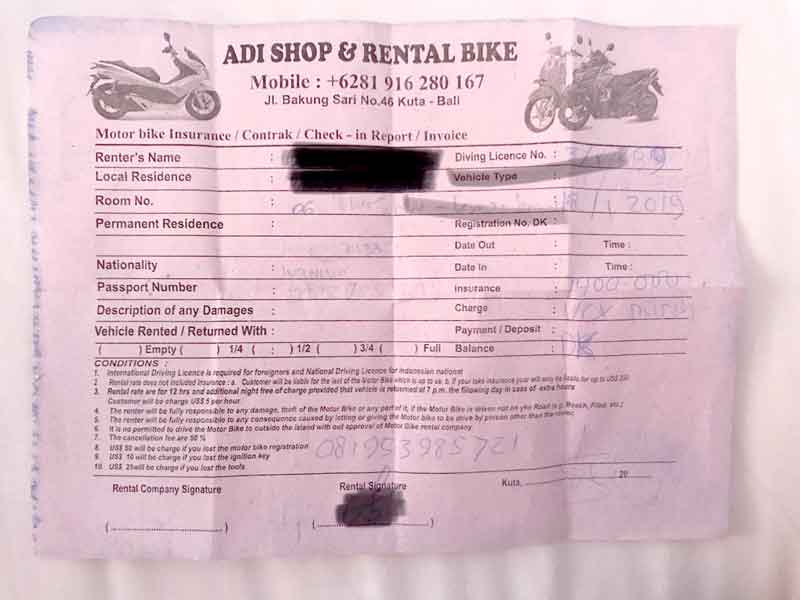 When you are handed the renting form, diligently read through it and discuss it, as there might be very unexpected conditions for the price of renting and insurance.
I recommend to make a video capturing each angle of the bike. It really helped me out once. It's also possible to take a picture from each side. This is important, because even if you don't scratch the bike, never drop it once at the parking lot, never have someone sidle up to you at the parking, it will still help in case they want to fine you for damages that were done before your term.

Regrettably, it is a first time renting a bike for many, who often fall and scratch the vehicle. Thus we implore you to document everything so there are no doubts on the subject of who must pay for damages.
I had a situation when I was returning a bike. The rental shop owner said I damaged a wing on it, and must pay 2 million rupees for replacement and a new coat of paint. I was able to prove that the damage was old (all because I had a video).
Of course, it is best to first of all pick a rental with good reviews, but it isn't always possible to distinguish who is good and who is a fraud.

Discuss the conditions for returning a bike. Sometimes you need to drive the bike to the rental shop, even if it was delivered to your villa. Sometimes, this means additional costs. If you want to leave the bike at the airport — discuss it, as not everyone allows it.
Check whether appropriate documents exist for the bike. Usually, they are in the trunk.
If you want to drive a bike to another island, this too must be discussed, as it's not allowed by everyone. You also need the original documentation, as without it, you will not be let go at a ferry.
Write down the rental's WhatsApp and photograph the rental form, in case it gets lost.
If you are renting long-term, discuss what the prices will be like in the following months.
Verify which fuel you must use for the scooter.
For long rental terms that do not fit neatly into a month, discuss the term especially carefully, because you may be charged a daily rate for the remaining 10 days, even if you took that bike for four months.
Tires. Pay attention to their condition (although it is difficult for a newbie). But - bald tires are definitely something you don't need. It often rains in Bali, especially from november to march, making it easy to roll off into a ditch with bad tires. Try and compare a few scooters and the condition of their tires. You can also ask to replace the tires on your bike, if you think that they are sufficiently worn down.
If you order a bike delivery, ask ahead of time for pictures. Getting the pictures you've requested is rare. But — you can always refuse the bike on the spot and ask for another one — it will be delivered to you if it's available.
Ask when the bike last was in service. If you rent long-term, clarify when you'd need to go through service. The owner himself will arrive and take the bike into a shop, in the meantime giving you another one.
Find out whether it is important to return the bike with a full tank of gas. Different cases happen and usually you only need to remember what amount of fuel it had at the start and return it with a similar level.
There are rarely limitations on mileage, also needs verification.
Ask for a demonstration of how everything works. Don't be shy and look at the process of starting ignition and turning it off, opening the trunk, and activating turn lights.
Check the state of the major systems:

Headlights — low and high.
Breaks. Again, if you're a novice it is difficult to discern how well the breaks work. You will get it in the process of driving. But, here is a rule of thumb: the lesser the mileage, the better all of the scooter's parts will work.
Backslash in the steering. If it is too big, driving will be uncomfortable.

Companies with foreigners as their owners often have lots of additional conditions and fines. For example:

Fine on returning a bike before the term is up
Fines for returning it from a different place than that which it was delivered to
Fines for an empty gas tank

If you are a few hours late on returning, etc, etc.
I'll separately address the question of driving without a license. Everything will be hunky-dory until you are a participant in a serious crash, where an insurance company has to get involved. Alas, they refuse those that do not have the appropriate license class for a bike, or any license at all. Keep that in mind.